For the movie fans among you, here is one of the coolest T-shirts of one of the best directed cult movies of all time!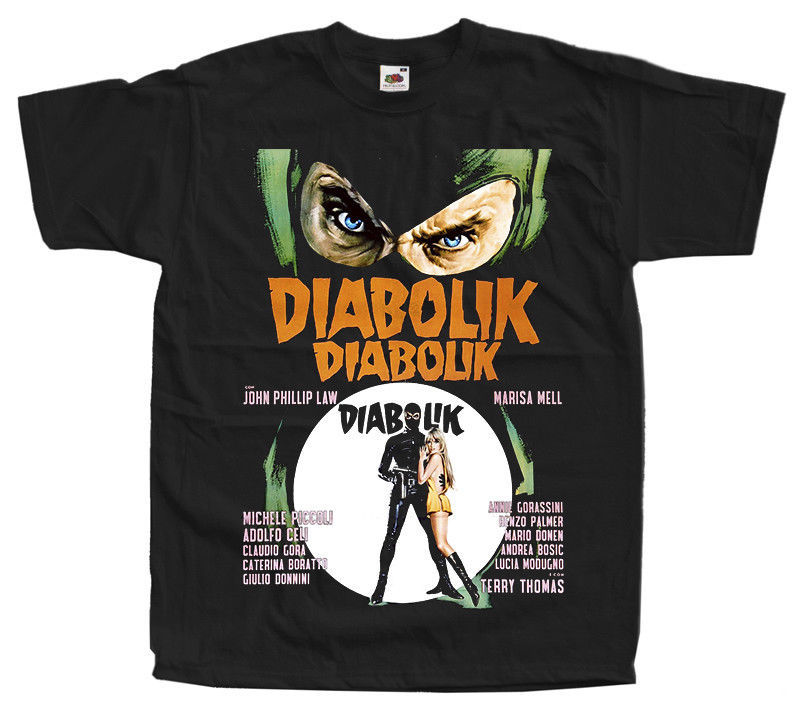 In an age far removed from billion dollar Comic Book movies, cinematographer turned Director Mario Bava, best known for his primary colors drenched horror films, gave us this European take, on a superhero. Somewhere between James Bond and Batman, his Diabolik just riveted and impressed, and remains…. impressive.
Definitely light-hearted, and zany, and cartoony in the best sense of the word, this film is a MASTER CLINIC on crafting film. This film, like upcoming films represented in my T-shirt series, deserves to be owned as tactile DVDs/Blurays. Go ahead and sample them via streaming, but own them via DVD/Bluray, because these are films, and special features, and Director's commentaries that any true fan of cinema, will come back to often. And now you can do it while wearing the coolest t-shirt!
Danger: Diabolik/DVD
From The Grindhouse Cinema Database
USA
Region 1
STUDIO: Paramount
SPECIAL FEATURES: Audio Commentary by Bava Expert/Biographer Tim Lucas and Star John Phillip Law. A nicely put together commentary featuring lots of really great information from Tim. John Phillip Law tells us all about what it was like working with Mario Bava and the beautiful Marissa Mell on the film. | "Body Movin'" video by The Beastie Boys with Audio Commentary by Adam Yauch (MCA) the director of the video which was inspired by Danger Diabolik. | Danger Diabolik: From Fumetti to Film: Interviews with Diabolik fans featuring comic book artist Stephen Bisette, Director Roman Coppola, Composer Ennio Morricone, Musician Adam Yauch, Producer Dino DeLaurentiis and Diabolik himself: John Phillip Law! | Also included on this DVD: Diabolik Teaser and Theatrical Trailers.
PICTURE: Ratio: (1:85:1) / 16 X 9 Anamorphic Widescreen. This new transfer is simply beautiful. Diabolik looks the best its ever looked. Mario Bava's super colorful cinematography and set designs are at the forefront of the film.
SOUND: Dolby Digital 2.0 Mono (English). Ennio Morricone's incredible psychedelic score comes through like a dream. Turn this up on your home stereo system and feel the vibe deep deep down.
Unfortunately there is no Bluray of this film available, but the nearly out of print DVD, is top of the line and a must own for any fan/collector.Get it here:
As far as the T-shirt… get yours here:
https://www.ebay.com/itm/Diabolik-movie-poster-1968-T-SHIRT-BLACK-all-sizes-S-to-5XL-PP/132448305023?hash=item1ed688bf7f:m:mZ4jd_tJhV8HzQpgO5bc_AQ
Tell em HT sent ya!