"You come highly recommended."
"I know I do."
"Do you know what is required?"
"Vengeance, I believe."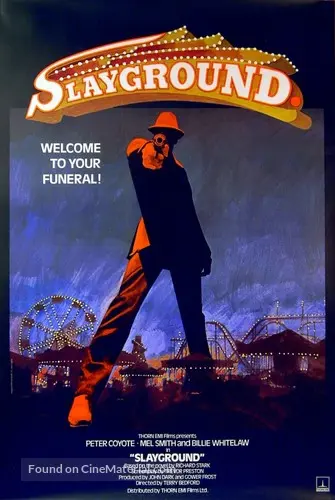 With those lines, balefully delivered, you know everything you need to know about why you should run out and watch or buy the 1983 film SLAYGROUND, right now.
I picked up this film on a bit of a whim, during the recent Kino Lorber sale. Kino Lorber introducing me to this almost 40 year old film, that I had never heard of. The price was right, and the cover and blurb… caught my eye.
Boy am I glad I purchased this film.
From the opening scene, with that wonderful soundtrack, it grabs and does not let go. Peter Coyote has never been better, and it is masterfully directed by a director, that like the film, I was unfamiliar with, Terry Bedford.
This would be his first and only film. What a debut and what a denouement. The 1980s was very much the age of the iconic boogeymen, from halloween's michael  myers to nightmare on elm streets freddy kreuger, to friday the 13th's jason, to the end of the cycle with 1992's candyman. slayground is a far more mature, complex and both sophisticated and convoluted, laconic film which explains why it flew under the radar and the tastes of the 'get to the point, show me' 80s.
however this film very much creates an iconic boogeyman for the ages, an implacable shadowman, played by philip sayer, once heard, once glimpsed… is every bit as terrifying and arguably more disturbing, than the more supernatural tinged monsters of the 80s.
there are good movies that are pushed over into great, by that exact perfect voice casting.

james earl jones

in

star wars

, his voice is pivotal in establishing the character of

darth vader

as iconic, and establishing that character is essential in establishing the film as iconic. the same with his voice in

CONAN THE BARBARIAN

. Other examples of great voices that helped carry/elevate movies are

liam neesen

in

dark man

,

stephen mchattie

in

ponty pool, aDRIENNE BARBEAU

IN

THE FOG

, And virtually anything

orson welles

has starred in.
to that list you can add

philip sayer

's voice acting in

slayground

. he creates an iconic villain, largely with his voice, and kudos to the filmmakers for their top notch direction and decision, to create their villain largely by suggestion.

and Praises to boutique Bluray Label KINO LORBER for rescuing this film from obscurity. I would have preferred more special features, but I am happy just to have this wonderful slice of period Americana available on Bluray.
The interview by Peter Coyote (done when he was 77, and we should all look as good as Mr. Coyote does at 77) is as essential as the film. It is a film class in one informative and engaging interview. A great special feature.
"Well I mean Terry's {the Director] a really genial guy, you know I liked these guys… he was easy to get along with, … he made it fun, but there is such … the English have such class consciousness that the actor is one step above a peon, unless he is banking the film. And I certainly wasn't banking the film. I was a Jew with an animal name, that they hired from somewhere…probably because I was cheap. So, you know, I was frustrated oftentimes being asked to do things that made no sense whatsoever… they just defied logic. And, you know, at a certain point it's like you can fight everyday and get fired, or throw it in. I didn't care, I tried my best, I gave it my 2 cents."
Get your copy by clicking the image below: