My better half thinks I'm a sick puppy for liking this cover, but man, I remember being

wowed

by this cover as a kid, and as an adult it still makes me literally

laugh out loud

. Even from the 60s and 70s age of outrageous SUPERMAN covers it is one of the most

outrageous and funny.
The thought that even Luthor would stoop to such extremes, is absurd and horrible, both character wise and concept wise.

But the absurd part wins out, you can not take it seriously. 
Even as a kid, I knew there was no way anyone was getting 'killed'

and Luthor would get his well deserved beatdown,  and so even as a kid i saw the cover as a bit of wonderful hucksterism

, and wildly audacious fun/comedy. As an adult I still feel that way. I don't think the interior story is memorable,

but that cover… is frame worthy.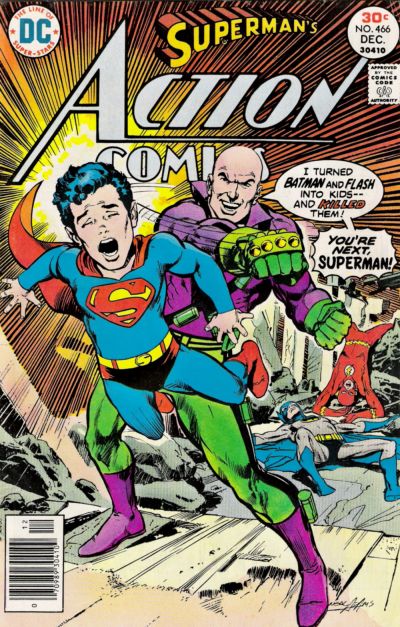 Lex Luthor turning the heroes into kids is bad enough, but then he is still so cowardly that he is sneaking up behind them and hitting them in the back of the head, rabbit punching them, with his super-powered brass knuckles. Do you get anymore ludicrously, cowardly, mustache twirlingly despicable. It is impossible not to view it like a Chuck Jones Wile E. Coyote skit on meth. :).
Quick aside, my Favorite Luthor in live action, and I have, to varying degrees,  liked all the versions, but the actor for me who is not only the best live action version, but is better than the animated version , is the criminally under mentioned Sherman Howard.
His work in seasons 3 and 4 of THE ADVENTURES OF SUPERBOY, thanks to great scripts and a great cast and crew (including the excellent Stacy Haiduk and Gerard Christopher), was TREMENDOUS. Those two years of THE ADVENTURES OF SUPERBOY, season 3 and 4, I would have to rate as easily the best live action version of Superboy/Superman on the small screen. Better than LOIS & CLARK, better than SMALLVILLE, better than the second season and up, of SUPERGIRL.
And a large part of why those two seasons remain worth revisiting are the Luthor episodes, and the fact that Sherman Howard gets to take the character from brilliant to wildly unhinged to sympathetic and back again. It is really a wonderful performance, that I urge you to go out and purchase or view those two seasons if you have never seen them.
They are that good, and Sherman Howard is that good in the role.
Get the shows here:
Now getting back to the comic book cover… The cover shows MUCH better in person. But you should get a feel from the image whether it is one to add to your collection. If so, get your copy here:
https://www.mycomicshop.com/search?q=action+comics+466&AffID=200301P01
If you enjoyed this post, like, share, subscribe, and check out the sponsor link below to order comic book, podcast, and youtube curated laptops or tablets, and/or curated digital picture frames. They also do all manner of repair and customizing for the pop-culture community. Mention you are coming from this blog and get 10% off.
https://techsupport51.wixsite.com/tech-support-2day