Absolutes are a deluxe format, oversized archival quality way to present beloved works of comic books/graphic novels, and to admire the art and story in an expansive, quality, slip-cased format. The Absolute line is a DC Comics branded over-sized format, and is one of the highest quality such formats in the comic book/graphic novel industry. With its origins dating back 21 years to 2000.
Other over-sized lines are offered by other publishers such as Dark Horse, Marvel, Oni, Image, BOOM and IDW,

however in terms of the breadth and depth of DC's Absolute line; the Absolute line is largely the standard to which the others aspire.
Now given well publicized issues with DC/Warner Brothers production and distribution of comics and collected editions, on top of the paper shortage and inflation issues in these pandemic days, and the future of the ABSOLUTE line is in some doubt (as is arguably the future of paper periodical comics as a whole).
So now is probably the last golden age to pick up all the best, essential books in this line, while they are still readily available, and before they get hoarded into private collections.
So without further ado here are the ABSOLUTES I highly recommend owning, in terms of the great combination of art (if the art is not stunning, even if the story is great, there is no need to own it in oversized format) and story.
There is a newer 15th anniversary version of THE ABSOLUTE NEW FRONTIER that has something like 60 additional pages, and flips the slipcover and book artwork from the above shown original absolute. But boy I do like the slipcover artwork on the old one  so much, it would have been nice to have that artwork on the slipcover and the cover of the new one. If you can afford it, buy two copies while you can. One to keep, one to give away as a gift or resell.

This 2020 Absolute is for me, one of the most sought after ever. Alan Moore, Stephen Bissette, John Totleben  over 30 years ago, almost single handedly redefining comics as the stuff of legitimate literature and art. A masterpiece. So to finally in 2020 get released in the Absolute format, with Alan Moore's name on it (given the problems on getting his name on other collections of his great work, such as MIRACLEMAN), is a holy grail finally acheived. By a large margin not just the Absolute I was the most excited to pick up in 2020, but one of my favorite purchases of 2020.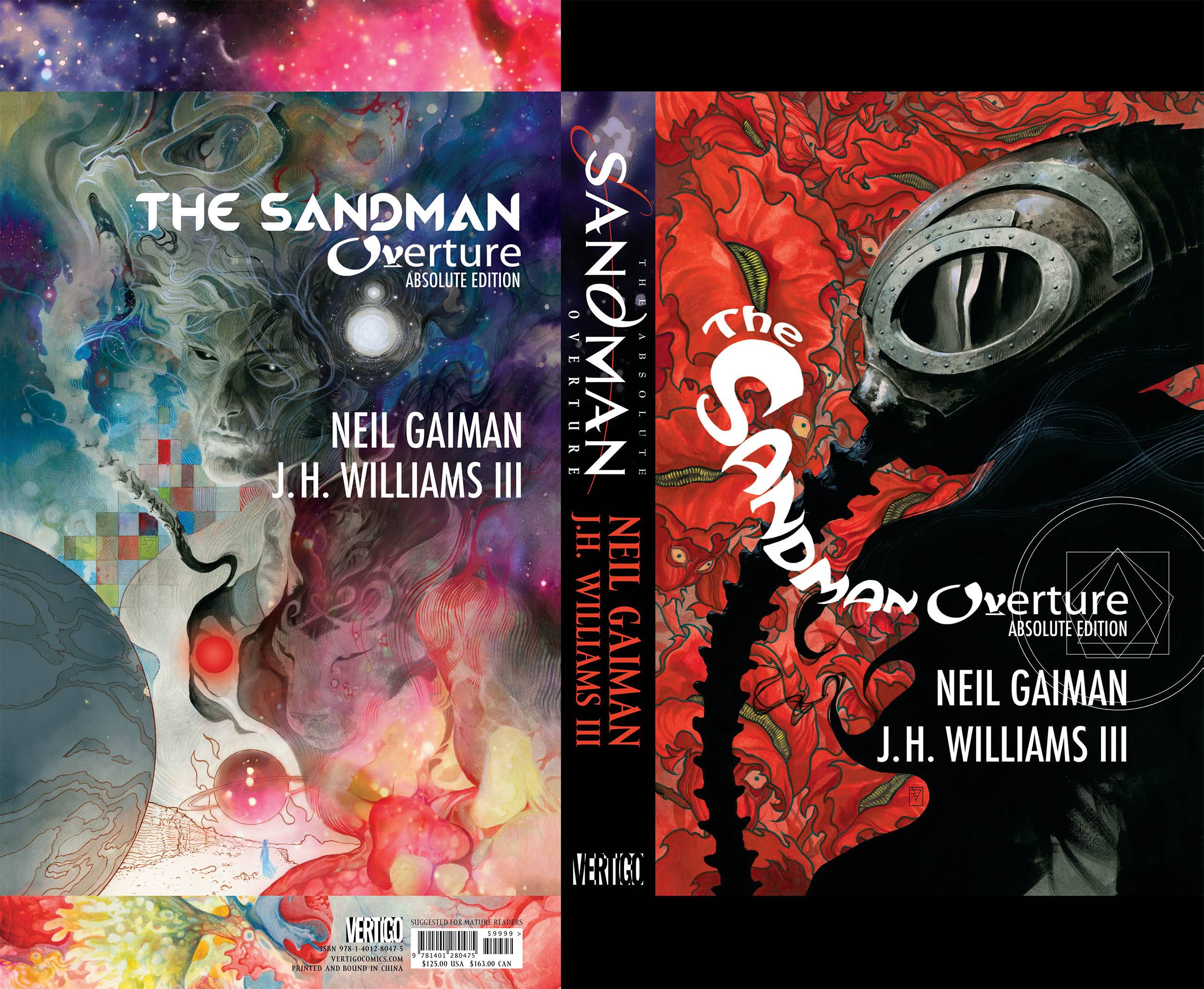 You wont find PREACHER (which is a series I love) or the original run of Gaiman's SANDMAN on this Absolute list, largely because for me, the art just doesn't appeal to me enough to want to see it in an oversized format. The artwork, in my opinion is serviceable to ok, but not worthy of the Absolute presentation. And that is my opinion, if you love the art on PREACHER or SANDMAN, I am happy for you. For me the art helps tell the story, gets us from point A to B, but does not wow me on its own. Now what does make it on this list is Neil Gaiman and JH Williams SANDMAN:OVERTURE. To call JH Williams  one of the finest and most exciting and innovative artists currently working, is to begin to get it. And his artwork, in marriage to a compelling story, is the stuff that Absolutes were made for.
Speaking of art that was made to be in an Absolute, archival, over-sized edition, you will find few things more worthy than Alex Ross' Kindom Come. People always credit Mark Waid as the creator, forgetting that Alex Roiss did not just paint KINGDOM COME, this was a story he brought to DC. And they assigned him Mark Waid to turn his story idea into a full fledged story.
To Mark Waid's credit he did a fantastic job, but I do feel Alex Ross role as co-creator/co-writer (that  is Alex Ross' Dad in the pivotal roles in both MARVELS and KINGDOM COME, and the religious themes, the pull toward iconism, all things Alex Ross brought to the table) does not get the credit he deserves.
The reason I am still reading comics, when I had walked away from comics in the 90s, after it failed to follow up the renaissance of the middle and late 80s, with anything of quality,.. is because I happened upon KINGDOM COME, and it felt (to borrow a line from the book) like faith rewarded.
KINGDOM COME, many moons ago, was one of the earlier Absolutes I purchased (the 2012 ist printing). As of this writhing Alan Moore's SWAMP THING is the latest.
I am ecstatic to own Alan Moore's SWAMP THING in Absolute format, that said… I can not imagine a world where I do not own Alex Ross and Mark Waid's KINGDOM COME in Absolute format. It is a must own, and one of my favorite stories ever done in the medium. It showed the world, through Ross' visuals, a cinematic view of these heroes, that would pave the wave for the new superhero golden age on cinema and tv.
It would make us believe… to cross brands for a moment… in Marvels. 🙂
Well that's the 4 for this installment. Come back next entry for 4 more must own Absolutes— before they go out of print.