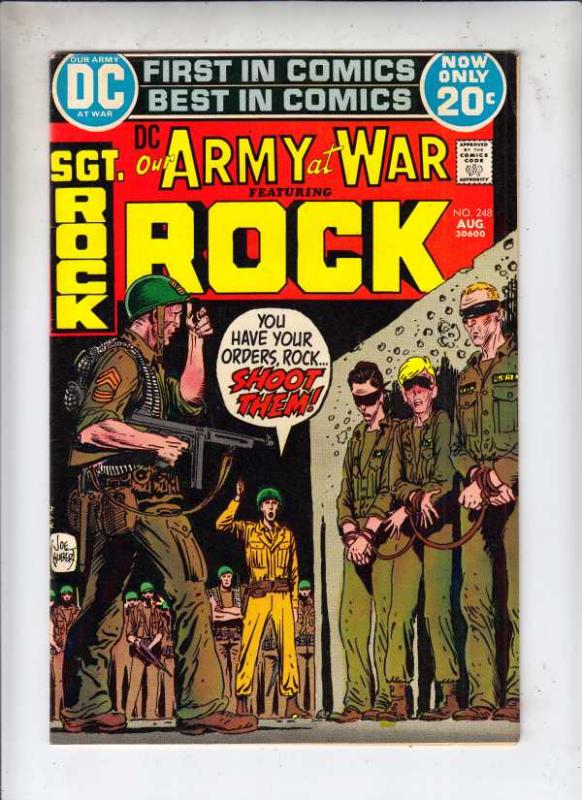 UNDER CONSTRUCTION — come back this evening for finished article
Sporting a STELLAR Joe Kubert Cover along with the very limited and still ground breaking SROAAWFR masthead (I think less than two dozen of these iconic mastheads adorn issues of OUR ARMY AT WAR), that Kubert as Artist and Editor masterfully integrates into his cover art, issue # 248 of OUR ARMY AT WAR is among the best comic book covers ever made.
Compare this cover  to today's where too many publishers and artists confuse pinups and so called virgin covers, with great comic book covers, and there is no comparison. Kubert understood that the marriage of typography, masthead, stunning art AND STORYTELLING… a great cover makes, and issue #248 is one of the great covers, by one of the greatest artists to ever do it.
And the interior sporting a primary story by the superb Robert Kanigher and sublime Russ Heath, lives up to the promise of Kubert's cover. Included Letter's pages sing the praises of issue #244, and the issue sports two more older stories, that are quick but enjoyable reads.
This was the height of comic book story telling in 1972, and while this genre of comics, the combat comic, quickly became overshadowed by the superhero boom, it grows every year, these books, and this storytelling, more inviolate.
Here in 2021 to purchase one of these issues, and to read and hold it and to experience it, written and drawn by men touched by war, is to understand the breadth of story, the feel of Americana, the potential of comics, and ultimately the importance and price of peace.
These issues, as individual issues, come with the highest recommendation possible.
Thanks to Fandom at DC Comics for the below Issue details.
Our Army at War #248 is an issue of the series Our Army at War (Volume 1) with a cover date of August, 1972.
Gallery
Our Army at War Vol 1 #248
August, 1972
Sgt. Rock: "The Firing Squad"
U.S.S. Stevens: "Ride the Baka"
Get your copy by clicking the images below: