I am currently watching PULP FICTION: THE GOLDEN AGE OF SCI FI, FANTASY AND ADVENTURE, courtesy of Youtube and Roku (the only way I watch a Youtube video), and it is just a riveting watch. If you are a fan of books and writers or simply history, and 20th century Americana, this deep dive into the early years of a uniquely American art form, pulp fiction, you will be riveted by this feature. It is less than an hour in length, and get past the incredibly hokey opening, it gets serious and informative and impressive, very quickly.
There is a line in the feature that, while being a patron of pulps and pulp writers and knowing this to be true, still actually gave me chills to hear it so succinctly laid out.
'The fascinating thing about the writers who were working in Pulps, was they were writing what was considered disposable fiction, trash. I mean, most of these stories you'd read them and throw them out, and yet… the top writers in these fields, whether Westerns or Science Fiction or Horror or Mystery, they are now considered the literary giants of the 20th century.'
—Marc Zircee, Historian
That line gave me chills. And it is still the case. The writers who are moving the needle here in the still early days of the 21st century, are writers who wrote in under appreciated genre fields.
Similar to successful pulp writers Ray Bardbury, Issac Assimov, Harlan Ellison, Walter Gibson, HP Lovecraft, Sax Rohmer, Dasheil Hammett, L Ron Hubbard, Raymond Chandler, Norvell Page, Cornell Woolrich and Stan Lee (who as a kid started writing pulp stories in the comics, 20 years before he and a cadre of artists would give birth to the revamped Marvel Comics) and others who survived the brutal starvation years of the pulps, and did not join the mass of such writers… who died young and broke, but continued at it, to write, and write, and write, and transition their forward looking pulp sensibilities to the new mediums of radio, and television; that is what is happening today.
And not to be remiss the pulp artists, both cover artist and interior were equally important. They gave the astounding, jaw dropping artwork that got you to stop and pick up the story, and the spot illustrations that powered you through it. And like the pulp writers of the day, the artists were woefully underpaid and horribly overworked to barely eke out a living. Most died broke and unknown, with their work not even credited by the publisher, but a few rose above the carnage of those years to create work that is remembered, geniuses like Norman Saunders, J. Allen St. John, Elliott Dold, George Rozen, Jerome Rozen, Rudolph Belarski, Frederick Blakeslee, John Newton Howitt, HJ Ward, Virgil Finley, and the criminally neglected Barye W. Phillips who did one of the best pulp covers ever with FANTASTIC #1 from 1952. I will be doing an article on the artists in an upcoming installment.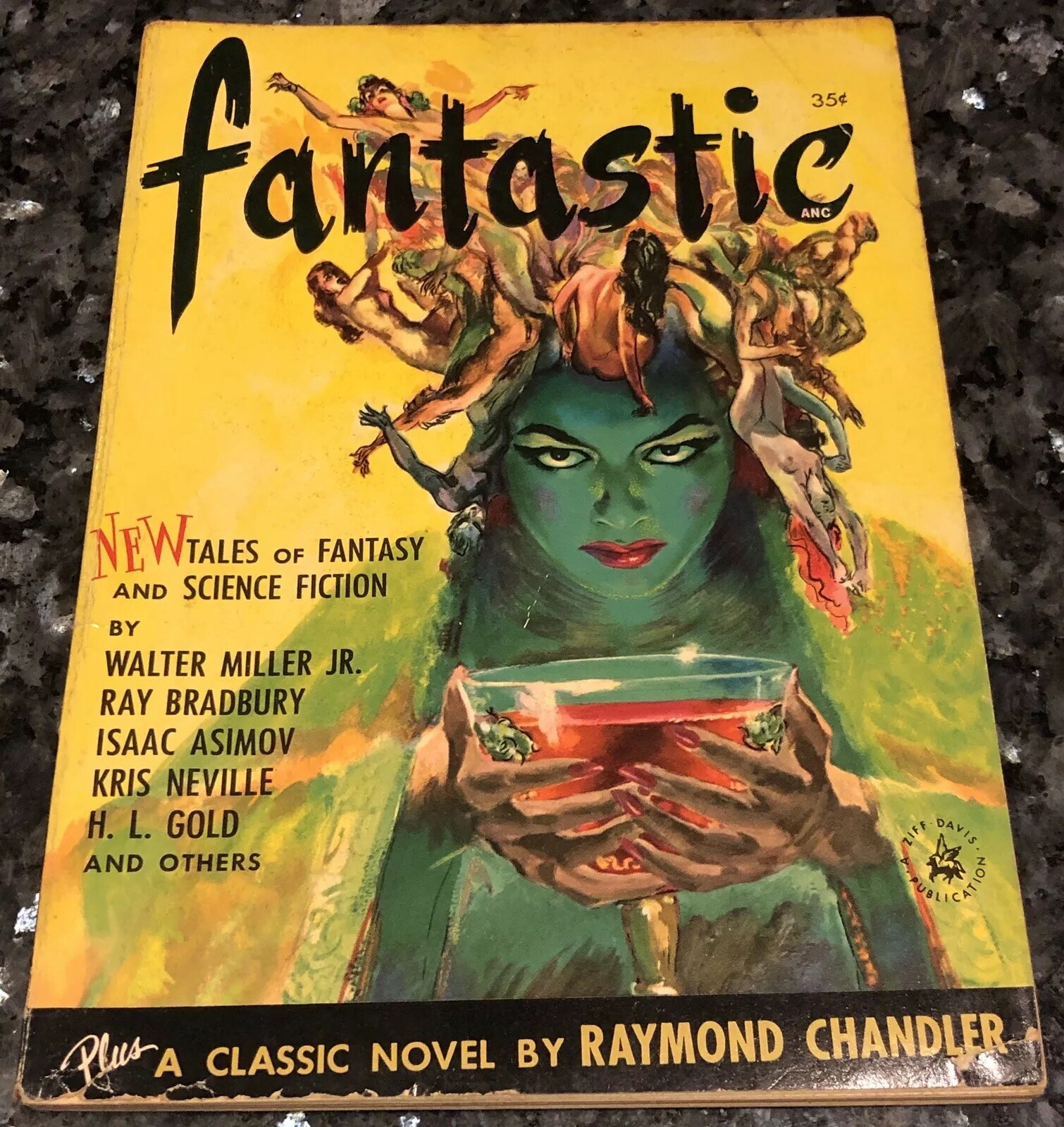 The pulp work… wins out.
The perseverance and love… wins out, and those trash/pulp writers of the 20th century are the ones who are celebrated and rediscovered today, where the 'serious' writers are largely forgotten and unread by the masses.
The pulp writers who were pushing the needle in the 20th century, with fast, hard,ugly, brutal, and imaginative tales that did not fit the sensibilities of the 'serious fiction' of the day.
That unruly challenging and imaginative fiction they were writing then… about our basest desires and wildest hopes remains…. today, still relevant. The way Mary Shelley's FRANKENSTEIN will always be relevant, the way Shakespeare will always be relevant, the way Chester Himes' Digger and Coffin Joe, will always be relevant. Because people then, as people now, understand the extremes of hope and despair, and that is the place pulp writers evoked for us best.
Now the modern equivalent are writers such as Stan Lee and Alan Moore and Frank Miller and Pat Mills and Neil Gaiman and Mark Olden and Warren Murphy to name a few.  People who slaved away in the late 20th century in the looked down upon realm of Comics or Pulp novels, but wrote about our hope and our fears writ large, modern myths to reflect our modern fears. And like always men who define the conversation of the extreme (the dreamers), in their own time, end up defining the conversation of the masses for their children's time.
And today we have a new generation of talented pulp writers. From Dennis Lehane to Walter Moseley to John Ridley to Derrick Ferguson to Thomas Ligotti to John Jennings to Joe Hill to Charles Saunders to Percival Everett to John Sanford to Collin Whitehead to Victor LaValle to Richard Gavin to Ed Brubaker to Christopher Priest to Warren Ellis to Brian Michael Bendis to Robert Kirkman to Al Ewing to Eric Powell to David Walker to name a few.
Serious Fiction talks about what is, Pulp Fiction uses the past, present and future as allegories to talk about who we can be, when we screw our courage to the sticking place. And as such it will always be a place waiting for us… to discover.
I hope you like this post. if you did subscribe, give a like or comment. 
A word about subscribing, there are a lot of demands on our time, too much for all of us to be aware of all the cool people and cool things, we might like to be aware of. Wednesday Words was a well received feature I did years ago, and it was just a quick touch on people whose name and work you may want to have on your radar. Subscribing will get you, every two weeks a very short, but very informative edition of WEDNESDAY WORDS.
So if you haven't subscribed, please do, and bring a friend with you. Collaborating, especially in these oft marginalizing times… seems like the right answer.
And for now, go to Amazon or your local bookstore or library and check out the writers mentioned in this piece. Till next time… be well!