I think I mentioned in an earlier blog that I went to TERRIFICON in Connecticut this year, 2018, and absolutely loved it.
But I am not sure I adequately conveyed why, or why I see this convention becoming the only state-side comic book themed convention I see myself paying to attend, going forward.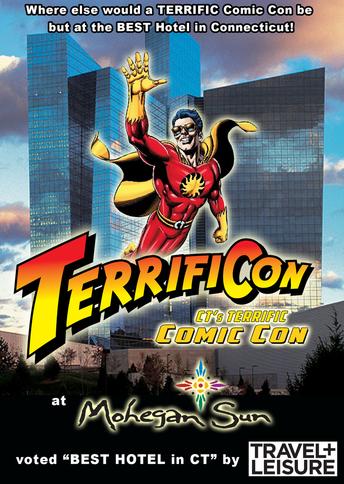 Most cons are a ludicrous hard-sell to anyone who is not a fan of that con. You stand around in long, moronic, snaking lines, to get into an overstuffed hall with too many people jostling or bumping or waiting in more lines that impede traffic. The panels are moronic, the hot guests uninteresting, and the deals… not there.
What helps sell TERRIFICON is the location. Now unless you are a guest or wealthy, staying at the casino is probably not what you want to do. But there are quite a few affordable and nice places to stay within a short drive.
We made a little vacation out of it. Close to Mystic Connecticut and New London Connecticut, areas I had not been before, we made a couple of days of touring the area before ever getting to the con. And you know what… the area is great. There is a bit of a learning curve, but once you get in the swing of it the area is beautiful and made for boat rides, and strolling through the picturesque neighborhoods and shops, and trying the wonderful food.
And then by the actual day of the convention we had already had a great and full fledged vacation.
The convention was a surprising and welcome capper to it. For a variety of reasons. The actual location itself, the Mohegan Sun Casino is simply massive, so you never feel (even with thousands of people) crushed, or swamped, or impeded, or over-whelmed. The distance between booths and space between aisles allows tons of space to maneuver and enjoy. Add to that it is exceptionally well laid out, with great panels, great guests, informative hosts, great shopping options… and did I mention it is in a world class casino.
That means instead of the overpriced awful food and drink options you have to endure at other conventions, here you can walk over to Bobby Flay's restaurants and sample just stupendous food. And there were tons of other great restaurant and shopping options.
It is the holy grail of comiccon locations.
And getting back on the panels. With guests that interested me, Roy Thomas, Larry Hama, Christopher Priest, and the list goes on, the panels that felt enlightening rather than trivial; trivial being generally what panels are at most other shows. I really have no interest in getting anything signed or photo ops, but great deals, great panels, great stories, great vibe, and access to great food make it a no-brainer of a draw for comic and non-comic fans.
Having been to comic book conventions from New York to Philly to Awesomecon in Dc, those are venues that don't really do much for me, but Mitch Hallock's TERRIFICON, I guess because he is a fan like me, and came up on the same Bronze age goodness, he is putting on a convention for himself, and thereby all the other adults of his age, so it can still offer the kids and families their anime goodness and gaming goodness, but has the sort of experience we Bronze, Silver, and Golden Age fans appreciate.
Having been to Terrificon this year, I do not see myself going back to New York Comiccon, or Awesomecon, or any of those. Those cons are oft geared to selling the new hot thing, and these days I'm more geared to want to see the proven talent.
I see myself making a yearly pilgrimage to the gracious New England area and making a fantastic weekend of it, most of which has nothing to do with comics, but having that convention at the center of it, It's a win-win for me and the Mrs.
As long as Mitch Hallock puts on TERRIFICON I see myself being a returning attendee.
One suggestion Mitch, if you see this, try an get Larry Lieber for next year's TERRIFICON.
I have been singing his praises since hearing his interviews on the MARVEL EPIC Podcast. While everyone remembers Kirby's run on RAWHIDE KID, for my money the Larry Lieber written and drawn work on that series, is western comics at its best. Tutored by both his brother Stan Lee and original Artist Jack kirby, Larry became a perfect amalgram of these two men, becoming both a compelling writer and a great artist, and that shows best in his (unfortunately unreprinted) multi-year run on RAWHIDE KID. I recommend back issue diving and picking up RAWHIDE KID from issue 42 to issue 120. It is as great a run of consecutive comics done by ONE person as you will see. Nearly eighty consecutive books both written and drawn by Larry Lieber between 1964 and 1974. Ten years and a stunning body of work, by a true unheralded workhorse of the medium.
Go to the above link and listen to the Lieber episodes and you'll be singing his praises too.
p.s. And if looking for a great panel moderator, I don't think Kurtis of EPIC MARVEL PODCAST would mind if I suggest him. His show speaks volumes for his love of the medium.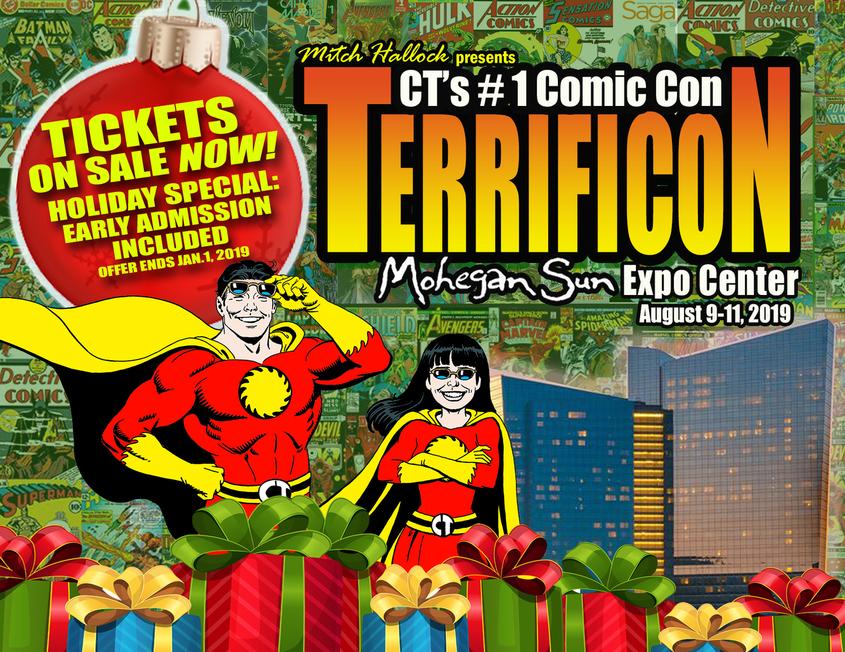 Well if you found my recommendation of either TERRIFICCON or EPIC MARVEL PODCAST or the criminally overlooked work of Larry Lieber helpful, show your support by using the link below to check out today's book of the day. Purchasing using the below link gets you a great book and earns this blog a few pennies to keep the lights on.
Here is a nice selection of Stan, Jack, and Larry monster comics:
If you can only afford to get five Larry Liber RAWHIDE KID comics, then get these five:
Thanks for viewing!